What Can You Do With a Master's in Nursing Education?
Image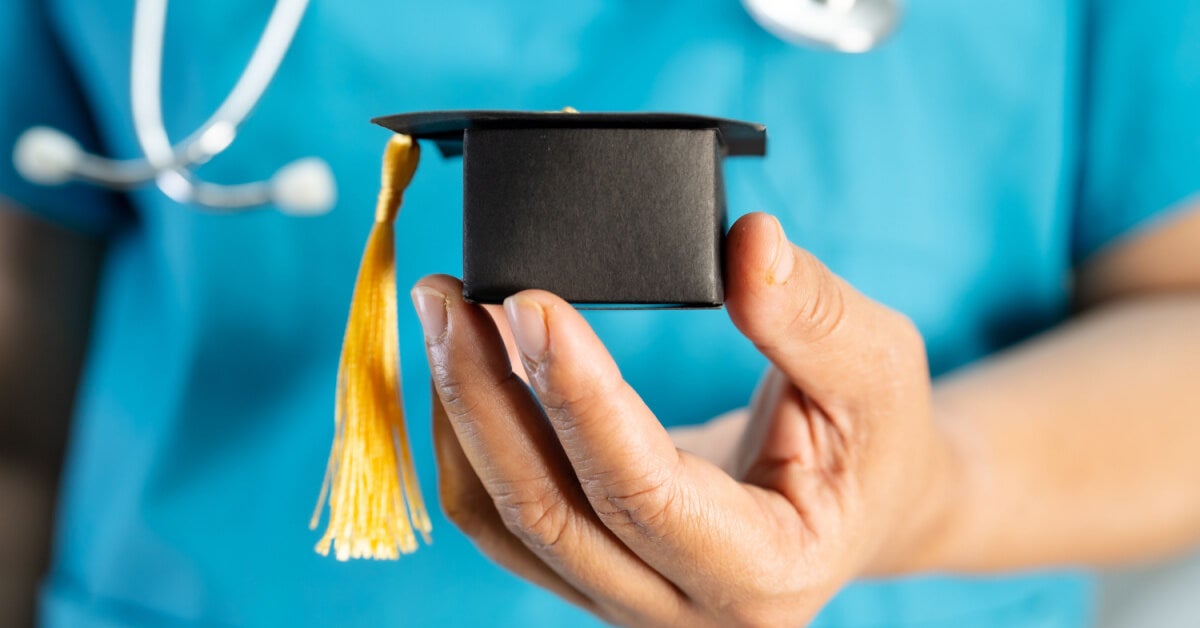 A nurse educator is an individual who has been trained in the educational techniques and strategies for effectively instructing both current nurses and the next generation of nursing health professionals. Nursing education is a profession conducted in university settings as well as clinical practice environments. 
If you have ever wondered what you can do with a master's in nursing education, this blog is for you. We will consider the value of a nursing education degree by discussing the potential career paths and outlook for nurse educators. The role of a nurse educator is tremendously vital as the world continues to face a nursing shortage. 
What is a Nurse Educator?
As the health care delivery system continues to evolve with the latest technologies and evidence-based guidelines, it continues to be essential for nurses to maintain clinical competency and proficiency in quality care. Nurse educators help ensure the current nursing workforce has access to timely education and in-services on topics that are tailored to the needs of specific populations and nursing specialty areas. 
Nurse educators are registered nurses (RNs) who have received additional education and training to teach nursing. This may come in the form of nursing education certificate programs or graduate-level education to receive a Master of Science degree with a specialty area of nursing education. These programs prepare nurses with an understanding of teaching philosophy and best practices for educating a variety of learners in clinical settings, in-person scenarios and virtual platforms common in online education today.
Where Do Nurse Educators Work?
Nurse educators work in a variety of settings. They are primarily and most commonly employed by general hospitals, ambulatory clinics or colleges and universities, but they may also work for nonprofit organizations, insurance companies, public health agencies and other patient-centered organizations. 
Some nurse educators are dually trained as advanced practice registered nurses and use this combination of education to maximize their nursing influence and expand their career outlook. Nursing educators with a business or legal background may find a use for their nursing education training within the realm of forensic nursing or insurance claims. Nursing education is an excellent career choice because it can be the main focus of a person's work role or it can augment an additional clinical credential to help an individual stand out in a competitive job market.
Nurse Educator Responsibilities in Hospital and Academic Settings
The roles and responsibilities of a nurse educator have distinct differences in hospital and academic settings. This is primarily because the goal of nursing education in hospital settings is to educate the current workforce to continuously improve the quality of care, whereas the goal of nursing education in academic settings is to train current and future nurses with additional skills and practice as they grow their professional expertise and expand their nursing roles. 
In hospital settings, nurse educators are frequently found delivering classes and training to onboard nursing staff and develop the skills of the health care delivery team. This is important not only for the execution of quality health care and improved patient outcomes but also for achieving healthcare facility accreditation. 
Nursing educators primarily work with students in the clinical setting or clinical skills lab setting, helping them translate didactic knowledge to clinical application in real-world scenarios. A nurse educator is a mentor for students and often someone who is a trusted resource for support and encouragement during a student's educational journey. The professional and collegial relationships that are built between students and faculty are often meaningful to both parties.
A master's degree in nursing education allows nurse educators to move toward longer-term faculty positions that typically require a terminal degree. In this capacity, a nurse educator in an academic-based setting may work with students on didactic material, training the next generation of nurses on topics such as:
Human anatomy and physiology
Obtaining comprehensive health histories from patients and families
Physical examination and critical thinking skills
The nursing process and the development of nursing diagnoses
Care management and skilled nursing procedures
Personal protective equipment and infection control
Trauma-informed care
The career outlook for nursing educators is favorable with many potential employment opportunities. Next, let's explore the salary and demand for this distinguished profession.
Image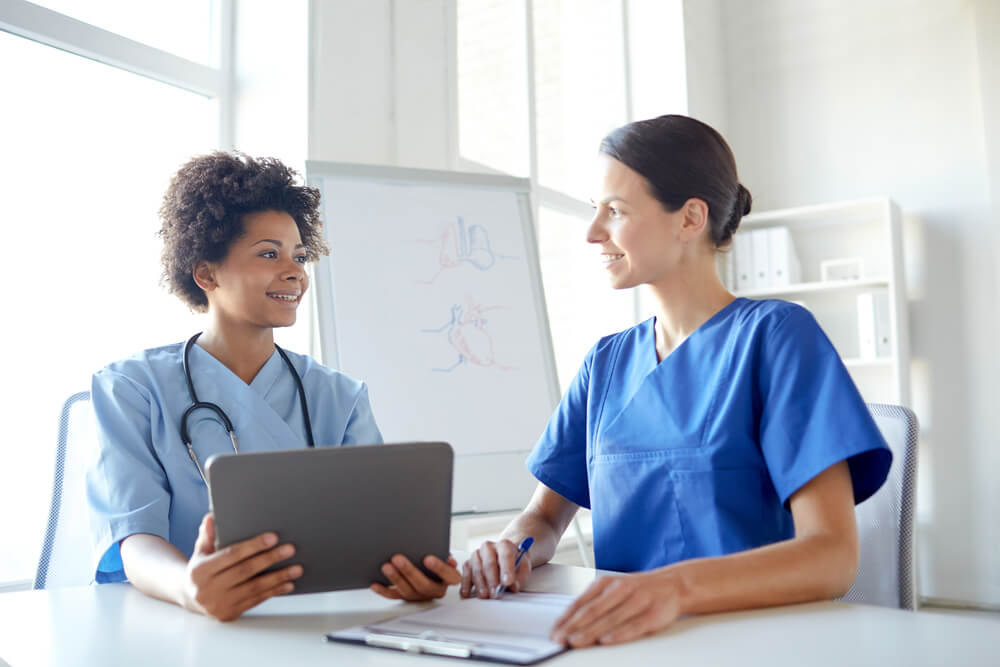 Nurse Educator Career Opportunities and Salary Outlook
Nursing educators and instructors are postsecondary educators in both clinical and classroom environments. According to the Bureau of Labor Statistics, these professionals were reported to earn a mean annual wage of approximately $82,040 in 2021. 
With a master's in nursing education, the salary potential is broad and highly dependent on the additional background and training of the employment candidate. Salaries for nursing educators in 2021 ranged as high as $125,930 for those in the 90th percentile. 
The industries where nurse educators are paid the most (according to the Bureau of Labor Statistics) are:
Roles in local government reported an annual mean wage of $127,590 in 2021
Specialty areas (excluding psychiatric-mental health) reported a mean wage of $101,030
Business schools with computers and management training reported a mean wage of $99,050
General medical and surgical hospitals reported a mean wage of $95,720
Psychiatric and substance abuse hospitals reported a mean wage of $89,440
There are many potential job opportunities for a nurse educator with a growing demand for the profession. Next, let's look at the work settings with the highest employment of nurse educators.
The Demand for Nurse Educators
With a master's in nursing education, there are several in-demand roles and work settings that are fitting for this specialty training. According to the Bureau of Labor Statistics, there were approximately 44,340 nurse educators employed in colleges, universities and professional schools. Following behind this work setting were junior colleges (employment of 16,920 nurse educators), which also had the highest concentration of nurse educators employed. 
Additional statistics for the employment of nurse educators in 2021 showed that:
General medical and surgical hospitals employed approximately 3,410 nurse educators
Technical and trade schools employed approximately 2,090 nurse educators
Educational support services employed approximately 700 nurse educators
With an exciting outlook for this profession, you can begin your journey to become a nurse educator by completing an online master's in nursing education program and earning your graduate degree in this growing field.
Become a Nurse Educator at Cleveland State University 
Cleveland State University offers a 100% online program that can be completed in approximately two years with a part-time schedule. The program prepares students to teach both student nurses and professional nurses at the bedside and in academic environments. By completing this program, you can begin your role as a nurse educator and be part of the educational journey of the nation's nursing workforce.
The program at Cleveland State University is accredited by the Commission on Collegiate Nursing Education (CCNE) and includes 500 experiential learning hours that you will complete in your community. This practical training helps ensure excellence in your nursing education skills and promotes confidence in the application of teaching philosophy.
As a graduate of Cleveland State University's nursing education program, you will be fully prepared to sit for the National League for Nurses (NLN) certification exam for nurse educators. Success on this examination is notable and distinguishes professional nursing educators who have attained the skills to deliver quality nursing education. 
Visit the Online Master of Science in Nursing Education program page today and learn how you can take the next step at CSU toward becoming a nurse educator.