Self-Care for Nurses

Because YOU Make a Difference
Image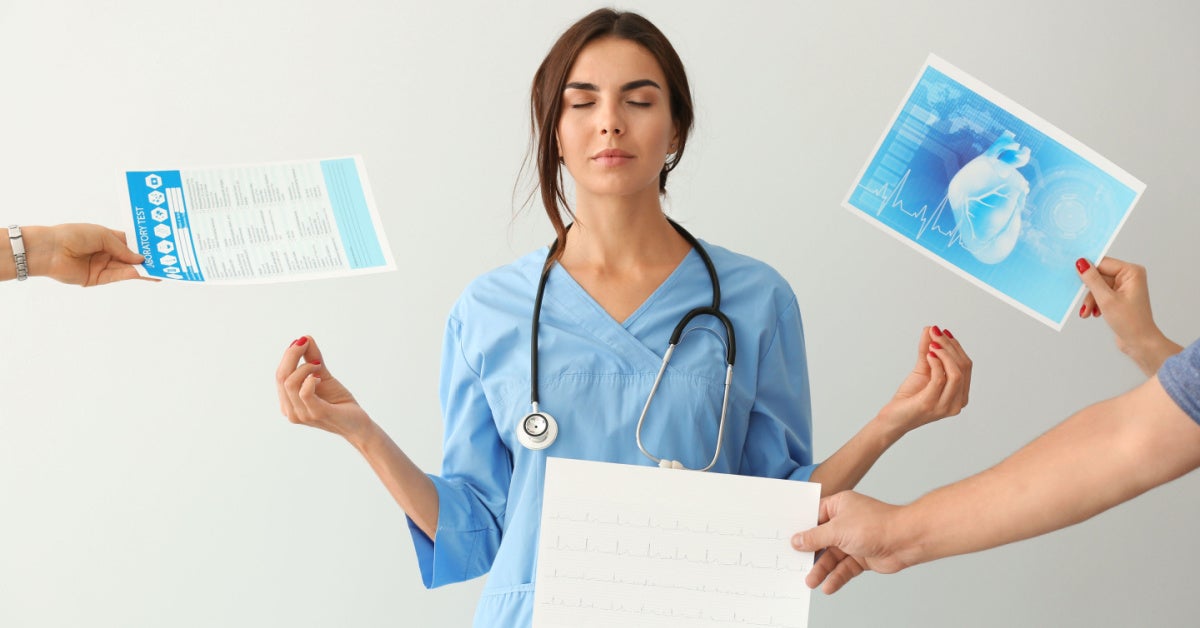 Nurses work tirelessly to improve patient outcomes, support the medical community and advocate for their patients. According to the American Nurses Association, 4.3 million registered nurses work nationwide, making nurses the largest component of the healthcare workforce. Nurses make a difference in the lives of countless people, often in ways that go unnoticed. Therefore, nurses must take care of themselves to avoid burnout so they can continue to enhance the well-being and lives of others. Healthcare leaders, policymakers and nurses must prioritize self-care for nurses to help address today's nursing shortage, battle burnout and improve job satisfaction for healthcare workers. 
In this blog, we will discuss the importance of nurses, how nurses make a difference and the critical need for self-care in nursing. 
The

Importance of Nurses

and How You Make a Difference

 
Nurses play a critical role in the healthcare industry. Nurses are responsible for the direct care of patients, administering medications and monitoring vital signs. They also help educate patients on better managing their health conditions and assist them through preventive interventions and consistent monitoring. In addition, nurses are the first point of contact for patients and their families, aiding in establishing trust and building relationships.
Moreover, nursing professionals improve care by ensuring patients receive the highest quality of care possible. They collaborate with other healthcare professionals to develop care plans and implement treatment strategies. According to the American Association of Colleges of Nursing (AACN), most healthcare services require care and involvement by nurses. The AACN recognizes that registered nurses are increasingly needed in both acute care and community environments, including:
Private practices 

Health maintenance organizations 

Public health agencies 

Primary care clinics 

Home health care 

Nursing homes 

Nursing school-operated clinics 

Schools 

Mental health agencies 

Hospices 

The military 

Nursing education

Healthcare research
Nurses also support patients and their families emotionally, ensuring they feel comfortable and well-cared for. They act as the voice of the patient, advocating for their rights and ensuring their wishes are respected. If you are pursuing a career in nursing or currently working as a nurse, it's crucial to realize the positive impact you make in bettering the lives of others, you make a difference.
The Urgent Need for

Self-Care in Nursing
In 2022, the United States Surgeon General Dr. Vivek Murthy issued a new advisory underscoring the urgent need to respond to the healthcare worker burnout crisis across the nation. The Department of Health and Human Services distributed a press release that says the advisory "lays out recommendations for healthcare organizations, health insurers, health technology companies, policymakers, academic institutions, researchers, and communities to address health worker burnout and ensure their well-being—so that health workers can thrive and better answer their call as healers."
Despite nurses' integral role in the healthcare industry, they often neglect their own self-care. The long hours, high stress and emotional demands of the job can take a toll on nurses, leading to burnout and other adverse health outcomes. According to extensive research by Zippia, 95 percent of nurses reported feeling burnt out between 2020 and 2023. The same study found that nearly 30 percent of all nurses working in the United States quit their jobs in 2021. 
The correlation between burnout and retention challenges is undeniable, especially considering such a large fraction of the nurse workforce quit following a demanding and exhausting pandemic. As a result, nurses must prioritize their own self-care, but additionally, healthcare leaders and policymakers must take action to protect the physical and mental health of nurses.
Recognizing and Preventing Nurse Burnout
Nurse burnout is often a result of the nursing occupation's long hours, high stress and emotional demands, leading to physical, emotional and mental exhaustion. Nurse exhaustion can have serious consequences, including decreased job satisfaction, increased absenteeism and reduced patient outcomes. In fact, the leading reason nurses quit their jobs is because they feel overworked. Another concerning statistic found that 40 percent of burnt-out nurses experienced "compassion fatigue" in the last three years, which occurs when exhaustion makes it difficult for nurses to empathize with their patients.
Healthcare leaders must monitor their workers for signs of burnout and take action to intervene before it's too late. Common symptoms of burnout include:
Lack of enthusiasm and confidence from nursing staff

Irritability and lack of empathy toward patients

A decline in physical health and recurring illnesses among staff

Reports from staff that they feel overworked or underappreciated

General

signs of exhaustion

, such as chronic tiredness, impaired decision-making, moodiness or slow reflexes
Image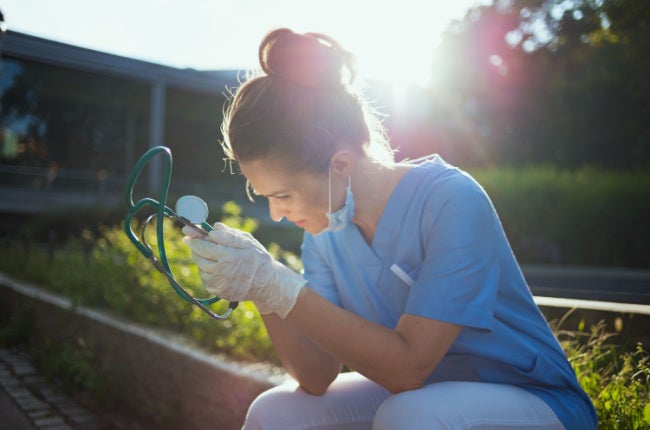 3 Ways Nurses Can Find Relief from Burnout
Nursing is a unique profession that requires immense dedication and compassion. However, nurses must take preventive measures to avoid burnout, as it affects their health, job satisfaction and the quality of care they provide to patients. Without energy and empathy, nurses are more prone to making errors in their practice. Studies show that burnt-out nurses are more likely to deliver erratic and incomplete care; when nurses are withdrawn or unhappy in their role, patients take notice. 
There are several ways nurses can take strides to manage their physical and mental well-being to prevent burnout before it happens.  
1. Plan ahead to request time off  
First, nurses should talk to their supervisor or manager to discuss their workload and see if any changes can be made to alleviate some of the stress. Nurses can also consider taking a break or vacation to recharge and refocus. Taking a sabbatical after a particularly intensive and demanding work period can help nurses reset and rest. 
2. Prioritize self-care
Self-care includes caring for one's physical, emotional and mental health. Nurses should make time for regular exercise, healthy eating and adequate sleep (ideally, seven to nine hours of sleep per night). They should also engage in activities that bring them joy, such as reading, listening to music or spending time with friends and family. Maintaining a work-life balance can help nursing professionals compartmentalize work stress to enjoy their free time and conserve energy for the things they love.
3. Ask for help
Nurses should not hesitate to seek support from colleagues, friends and family members when needed. They should also consider speaking with a mental health professional if they struggle with burnout or other emotional issues. Nurse.org outlines a variety of mental health resources for nurses, including:
Online therapy platforms like Better Help and Talkspace

Meditation apps like Headspace, Calm and Insight Timer

Depression and anxiety reduction platforms like Woebot

SAMHSA National Helpline: 800-662-HELP (4357). Disaster distress helpline — free, confidential, 24/7, 365-day-a-year treatment referral and information service (in English and Spanish) for individuals and families facing mental and/or substance use disorders.

Mental Health America: This site has a free, online mental health discussion community. Discussion topics include mental health concerns, support for family and friends and coping with mental health stigma.

Crisis Text Line: Text "HELLO" to 998. This hotline is available 24/7 throughout the U.S. This line is for anyone in any type of crisis and will connect you with a crisis counselor who will provide support and information.

9-8-8 Suicide & Crisis Lifeline
How Nurses Can Help Each Other Prevent Burnout
Nurses can support one another and leverage interpersonal relationships and group counseling to prevent burnout. They can share their experiences and offer advice on how to manage stress. Nurses can also take breaks together and engage in stress-reducing activities as a group. By supporting each other, nurses can prevent burnout and continue providing their patients with the best possible care.
Make a Difference and Pursue a Nursing Degree at Cleveland State University 
Nurses are critical to the healthcare industry, and it is paramount that they take care of themselves to continue to promote their health, job satisfaction and patient care. By recognizing burnout, finding relief and supporting each other, nurses can continue to make a difference in the lives of their patients. Remember, self-care for nurses is not selfish–it is necessary to continue to provide excellent care.
Obtaining a Master of Science in Nursing (MSN) degree can help nurses alleviate burnout by giving them more autonomy and the ability to enter leadership roles. With an MSN, nurses can take on more responsibility and have greater control over their work, which can reduce feelings of being overwhelmed and increase job satisfaction. Additionally, leadership roles can provide opportunities for nurses to effect change within their workplace and improve the overall quality of patient care.
If you are looking for online education to attain your MSN degree, Cleveland State University offers several program options, each with 500 practicum hours of hands-on learning experience:
The

MSN-Clinical Nurse Leader

program prepares students to become effective leaders in clinical settings and ensures patients benefit from the latest innovations in care delivery across the continuum.

The

MSN-Forensic Nursing

program advocates for truth and justice in a professional nursing role. This program allows students to leverage nursing skills with forensic science to promote recovery, health and justice in a caring and compassionate way.
The

MSN-Nursing Education

program readies students to work as skilled educators and leaders in academia or professional development. This program also encourages students to influence new generations of nurses through effective teaching methods.

The

MSN-Specialized Populations

program prepares population-focused nurses to concentrate their careers on the health needs of a defined population and use best practices and evidence-based research to improve outcomes.
To learn how to obtain your MSN degree online and start a meaningful career in nursing, visit Cleveland State University today.